Never fail to catch the eccentric load, the necessities of the quality control
PLA-2N Stage2 has the function of detecting the press load with two(2) pieces of strain gauge sensors. It displays the accurate load during press processing, and output stop signals and stops a press machine immediately when abnormality is detected. Monitoring cannot be ignored when there are eccentric loads for each stroke, and furthermore, load monitoring extends the life of dies, prevents friction and wear of presses, also promotes quality control and rationalization.
Features
Easy to know the balance of loads applied to the left and right sides of the press, and to know improper balance, load center, etc., it facilitates die maintenance and quality control.
As a overload protector, it prevents from the damage of the dies by detecting double hits, mis-feed, change of material thickness etc., and estimates die regrinding intervals.
By knowing the suitable load for products, the selection of the press is facilitated.
The detector can be used to simultaneously set absolute value comparison (set value of upper/lower limits) and comparison with the value of the previous time.
The digital LED display is easy to read, and the bar display shows the left load and the right load in percentage.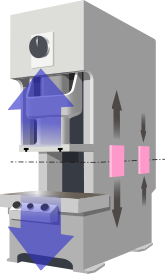 Specifications
Power Supply and Output section
Power supply
AC100~240V 50/60Hz
Power consumption
15W or less
Output contact
1A・1B(emergency stop output/auxiliary output)
Output contact capacity
250VAC or less, 5A or less Cosφ=1
Detection section
No.of channels
2 channels
Detection range
100kN or more, available for press up to 40,000kN in capacity
Repeatability
0.5% of device press capacity
Sensor
Strain gauge type 4-bridge strain sensor
Display section
Display
1/2 inch 7-segment red LED, five-digit per channel
Others
Backup
With semiconductor memory, backup time:10 years or more
Maximum SPM
1,000 spm
Temperature range
Working: -10°C-40°C(non freezing) / Storage: -20°C-55°C
Humidity range
10-85%RH (at wet bulb temperature of 229℃ or less, non condensation)