PLA-4α has the function of detecting the press load with four(4) pieces of strain gauge sensors. It displays the accurate load during press processing, and output stop signals and stops a press machine immediately when abnormality is detected. Monitoring cannot be ignored when there are eccentric loads for each stroke, and furthermore, load monitoring extends the life of dies, prevents friction and wear of presses, also promotes quality control and rationalization.
Features
Suited for crank type and servo type press machines.
Responds to static load.
A method of obtaining the total load (Maximum total value or total values considering eccentricity) according to work piece.
Provided with an output function for press machine protection (overload otherwise known as capacity alarm).
Provided with a function of inputting the number of usable strain sensors (1ch~4ch).
Provided with an automatic zero point compensation function.
Adopts a digital sensitivity setting method
Adopts a 5-digit display.
Provided with an LED level meter display function.
Higher visibility by use of blue LEDs.
Better operability by adoption of dial type setting.
Provided with a function of malfunction protection by password setting.
The reverse load can be displayed.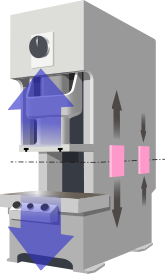 Specifications
Power Supply and Output section
Power supply
85-264 VAC, 50/60Hz
Power consumption
75W or less
Output contact
1A・1B(emergency stop output / auxiliary output)
Output contact capacity
250VAC or less, 5A or less Cosφ=1
Detection section
No.of channels
4 channels
Detection range
100kN or more, available for press up to 90,000kN in capacity
Repeatability
within 1% of device press capacity/Within 100-800% of channel capacity
Sensor
Strain gauge type 4-bridge strain sensor
Display section
Display
1/2 inch 7-segment red LED, five-digit (per channel)
Others
Backup
With semiconductor memory, backup time:10 years or more
Maximum SPM
2,000 spm
Temperature range
working: -10°C-40°C(non freezing) / Storage:-20°C-55°C
Humidity range
10-85%RH (at wet bulb temperature of 229℃ or less, non condensation)