RIKEN OPTECH's vision is to be an enterprise, which contributes to customers and society in the fields of safety, health and hygiene. We also aim to keep challenging the boundaries of creativity and innovation.
Business Fields
Protection for the eyes and face
Products to support a high level of safety from all points of view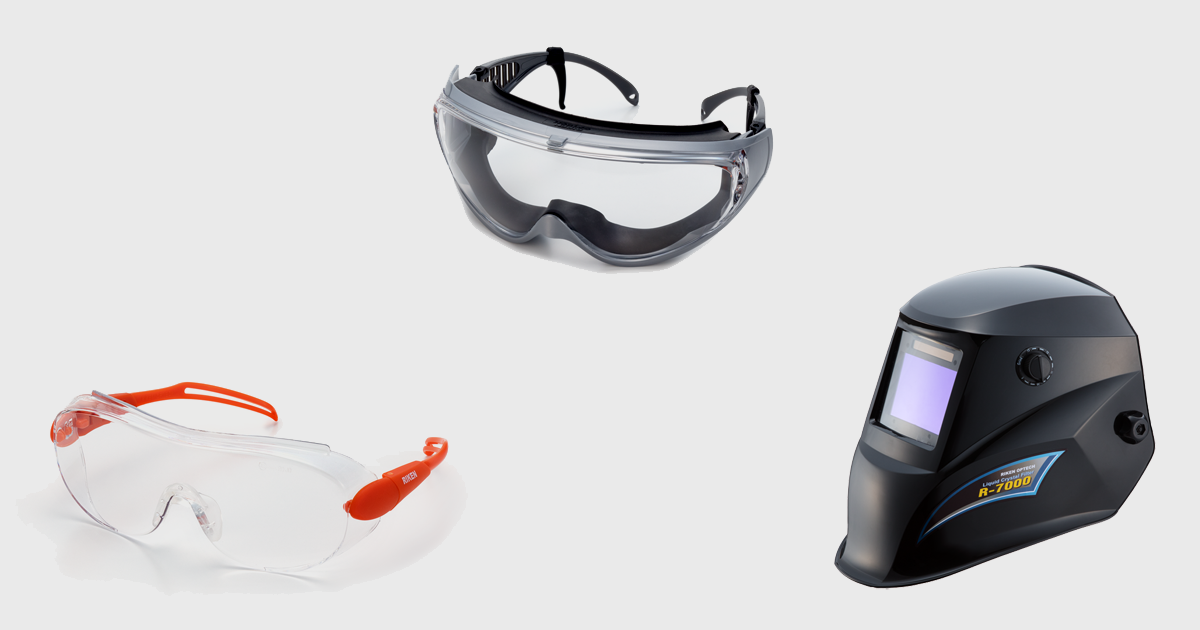 To create products like protective glasses and goggles, welding glasses, face shields used in the working environment, we try to put ourselves in the position of the workers. We developed our own anti-mist technology called VF Coating, so that workers can be comfortable while using a variety of different products.
In addition, filters to protect the eyes from light rays harmful to the body such as those from laser machines are produced to accommodate various specifications of laser. We also organize safety courses for customers to increase safety awareness. Throughout our development activity we listen to our customers' requirements, as we develop our products.
We pay careful attention to the valuable contributions from our customers in our product development process. We make daily efforts to ensure that these products are more trusted and able to be used safely and with confidence, so that we can grow as our customers grow.
Safety devices for presses and other peripheral equipment
Developing new possibilities through the application of safety technology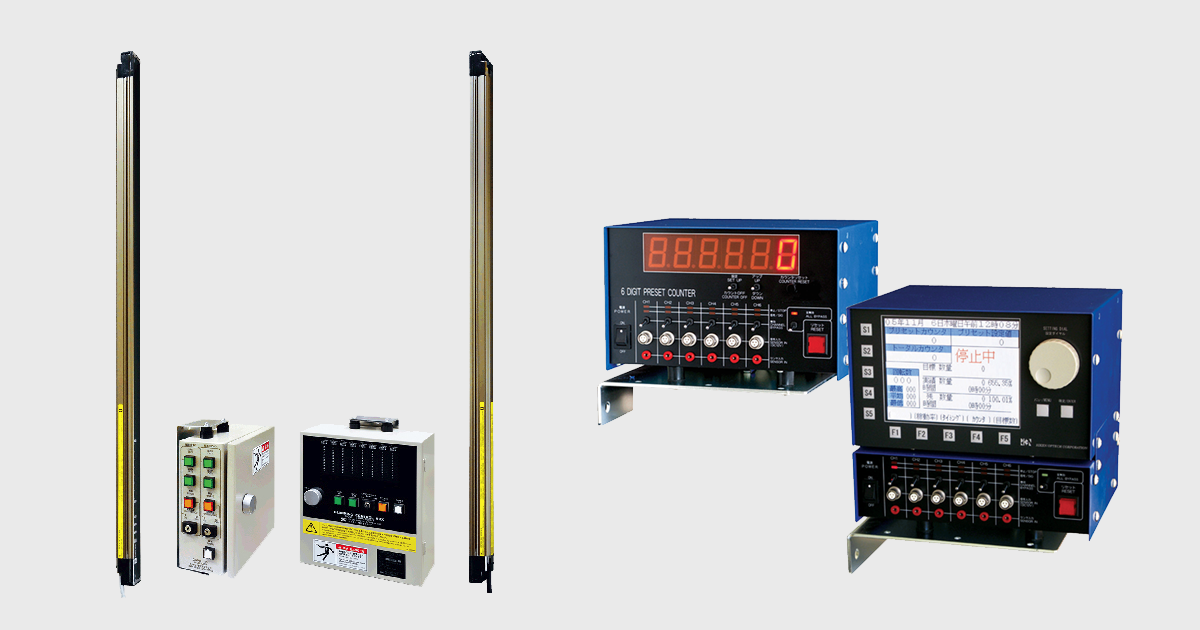 The main function of our safety equipment for press machines and press brakes is to create safe conditions for workers operating the machines, and over many years we have accumulated experience and achievements, which support our reputation in this field today. We employ a variety of laser types and bypass functions to achieve this. The various models we produce aim to work successfully but also to be comfortable to use.
In addition our load monitors, malfunction detectors and die monitoring systems support quality control and equipment maintenance. The majority of these products are manufactured in-house, so we are actually developing, manufacturing, selling and providing after care, so that our customers can be comfortable using our machines.
Furthermore we meet international standards enabling us to build an overseas network, which is turning us into a global company.
Company Outline
Company Name
RIKEN OPTECH CORPORATION
Head Office
2-6-9 Higashi Ohi, Shinagawa-ku, Tokyo 140-8533 JAPAN
Establishment
29 May, 1950
Capital
100,000,000 JPY
President and CEO
Maiko Misu, President
Main Banks
MUFG Bank, Ltd.
Mizuho Bank
Trade Memberships
Japan Industrial Safety and Health Assosciation
Technology Institution of Industrial Safety
Japan Safety Appliances Association
Japan Construction Occupational Safety and Health Association
Japan Press Safety Devices Association
History
1950

Foundation of Riken Lens Industrial Ltd at Takanawa, Minato-ku, Tokyo
Started manufacture of UV cut lenses and filters for eye protector

1953

Approved by JIS for manufacture of protective lenses

1955

Opened sales office in Osaka

1956

Moved head office and factory to Higashi Gotanda, Shinagawa-ku, Tokyo

1960

Gained Ministry of Labour certification for development and manufacture of beam-type press safety device

1962

Opened sales office in Nagoya

1966

Opened sales office in Fukuyama

1967

Head office and factory moved to Higashi Oi, the present location

1972

Gained Ministry of Labour official approval for beam-type press safety device
Opened sales offices in Kumamoto and Utsunomiya
Set up factory in Utsunomiya, Tochigi prefecture

1976

Certified by JIS for the production of safety glasses

1978

Due to changes in industrial health and safety law and the standards set up for safety equipment, obtained government approval for beam-type safety device and started selling

1981

Received JIS approval for production of light-shielding protection equipment

1985

Company name changed to Riken Optech Corporation

1987

Developed and produced laser protection glasses

1994

Jointly developed new type of load-monitoring equipment in technical partnership with US firm Helm Instruments, who make press load-monitoring equipment. Started selling Helm's products

2002

Product development of VF coating (anti-fog coat) for plastic lenses

2007

Safety Equipment Division achieved ISO 9001 quality management certification

2008

Safety & Automation System Division achieved ISO 9001 quality management certification

2011

In accordance with the changes in Construction Code for Safety Devices of Press Machines due to the partial revisions of the Industrial Safety and Health Act, newly acquired type examination certificate for Safety Light Curtains
Acquired type examination certificate for laser safety devices for press brakes manufactured by Fiessler Elektronik, a German safety devices manufacture

2013

Set up new office in Nagano prefecture
Moved Technical Development Section for Manufacturing Department, Safety & Automation System Division to new office in Nagano prefecture

2014

Moved Production Control Section and Quality Assurance Section for Manufacturing Department, Safety & Automation System Division to new office in Nagano prefecture

2015

Launched VF plus+ lens with further increased anti-fog performance

2017

Moved sales office from Fukuyama to Hiroshima

2018

Achieved ISO 9001: 2015 quality management certification company-wide: all company divisions now certificated
Business Locations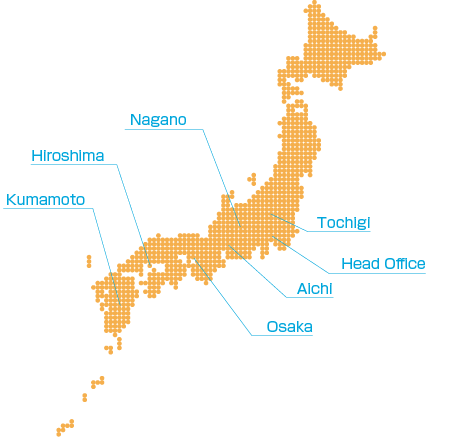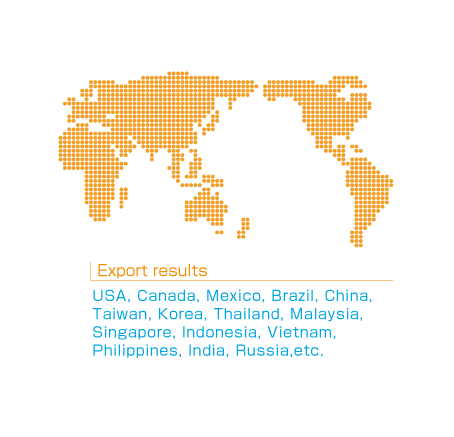 | | |
| --- | --- |
| Head Office | 2-6-9 Higashi ohi, Shinagawa-ku, Tokyo 140-8533 JAPAN |
| Tochigi | 943 Shimokanai-cho, Utsunomiya-shi, Tochigi 321-2114 JAPAN |
| Nagano | 5615-1 Taguchi, Saku-shi, Nagano 384-0412 JAPAN |
| Aichi | 9-10 Futano-cho, Mizuho-ku, Nagoya-shi, Aichi 467-0861 JAPAN |
| Osaka | 5-3-14 Nagatanaka, Higashi osaka-shi, Osaka 577-0013 JAPAN |
| Hiroshima | 1-15-28 Aita, Asaminami-ku, Hiroshima-shi, Hiroshima 731-0141 JAPAN |
| Kumamoto | 2900-2 Seigenji, Nagasu-cho, Tamana-gun, Kumamoto 869-0105 JAPAN |